The Only Way to Travel...And Burn Calories
I thought that writing a blog series about deployment would be really hard. Some weeks it was, say, equal parts hard and cathartic. I cried my way through more than a couple posts, and still cry when I read back through the work. But it was also some other things as well.
It was a bonding place. Because I'm a remote Army wife, much of my military acquaintance is connected to me over the internet. I have gotten such encouraging messages from my far-flung friends during the course of this project, people who care about us and have been following us through my blog.
It has really been a nice connection point in that respect--people we haven't seen in ages have gotten a chance to lift us up over the web. And people I see every day have gotten to see a piece of military life they wouldn't ordinarily come into contact with. And that has always been one of my aims--to bridge the divide between the civilian and military parts of our lives.
Seeing if Daddy's Hat Fits
It was also a place to make new friends. I did not know the other Everyone Serves bloggers (or BSF's writing staff) before this project. It has really been a pleasure getting to know these ladies through our collective experience. I have loved reading their voices, having them chime in on mine. We are all coping with the same distance, the same fears and challenges, and it's really been a point of strength for me to learn from their unique perspectives. What a tough group!
It was a learning place. Certainly this is true in the sense that the series revolved around the Everyone Serves Book. And as a learning tool, it has been a tremendous resource. (Also, it's FREE, so everyone should have a copy). But it's been more than that. It had been sharing stories. Commiserating in the sorrows and the joys. Getting advice from readers, some old friends and some people I may never know.
I once described the military as a service-built family. That description has certainly held true over the course of this project. We've built a sort of virtual camaraderie that has blessed me so much, and I hope the feeling is mutual. I hope that I have helped others going through this deployment process to feel ever so slightly less alone in it.
Twenty-five more weeks to go in this deployment. I'll keep writing, so please keep filling my inbox.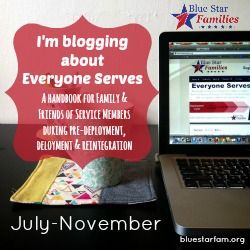 Please click HERE to read my disclosure statement, in compliance with FTC guidelines.