Well, technically three and a half. By the time we get past Thanksgiving next week, Jake will have been deployed for four months. In some ways, it has flown by. Howie and I have managed to achieve a level of normalcy I hadn't expected with Jake gone so long. Being more okay than I thought we'd be comes with its own kind of heartache, though. I like to think it comes from all the years of practice being remote—we just know that even across the miles we're in each other's hearts. Maybe that's enough for now.
But on the other hand, when I think of how many months we still have to go—and especially when I think about the holidays, birthdays, and other important things that lie between here and there—it still makes my heart sink every time. Last night, Howie and I had a movie date. It was really fun and Howie loved it ("just you and me time mommy!"). But still, I couldn't help but think how I'd give just about anything for our twosome to be a threesome on that simple everyday outing.
Last month, my life was made infinitely easier. Jake's brother moved to Houston with his wife, and they have been helping me with Howie. It was really a God-send because my travel has been more than a little hectic this past few months. It's a struggle for me to remember a week where I wasn't away at least a day.
Having them here, knowing Howie is cared for and that he can keep his routine while I'm working brings a lot of peace (no more mild heart attacks every time I have to take a deposition, attend a hearing, or [insert thing work expects me to do because it's my job]). It makes the rest of this--the deployment, the distance--easier to handle. Not to mention, we've never really had family living nearby. This year was the first time that Howie got to celebrate Halloween with more than just me! He really loves having them around and so do I.
Of course, it hasn't all been smooth sailing. Howie is being very THREE lately. I'm sure it's mostly the age he is; many of his friends' parents are experiencing the same things. It seems that the incredible personality and imagination I see more of every day goes hand in hand with willfulness and independence. I guess you can't have one without the other, but some days I sure wish you could!
Even though I know that being very three is very normal, I also know that his Dad being gone plays a part. Jake is a regular feature in Howie's best dreams. It always breaks my heart a little when he's finished telling me the stories, and I see in his eyes that he remembers Daddy is gone. And he loves talking about the adventures we will go on together.
We've now started weaving adoption into the conversation to get him ready for our next big adventure as a family. We pray that God will send us the perfect little brother or sister to add to our family. We pray that Daddy is home from Afghanistan before we are matched so that we can all travel to the Philippines together to bring home a new Hicks. And Howie knows what the Philippines is, where it is, and *almost* knows how to say it.
One thing he did pick up pretty quickly: the word "kuya." It means "big brother."
I tell Howie stories about the last time our family went to the Philippines together, about our volcano adventure, and he thinks it is a great story but I don't think he believes me. Guess we will have to do it again! Hopefully next time, as a foursome!
********
Follow Blue Star Families on
Facebook
,
Twitter
, and
Google+
and build a support network so you can keep your family and personal community strong throughout the duration of the entire deployment life cycle.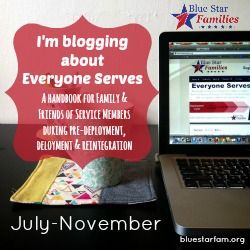 Please click
HERE
to read my disclosure statement, in compliance with FTC guidelines.