Looking for a unique way to honor service members? Want to be featured on the Hicks Hiking blog? I'm here to tell you how to do both as a way to celebrate Military Families Month and Veterans Day.
Veteran's Day is coming up in just ten days, and
Got Your Six
is inviting everyone to celebrate in a unique way--by participating in HISTORY's
Take a Veteran to School
program. Take a Veteran to School is designed to connect students with veterans around the country.
The program provides an opportunity for students to hear stories and learn living history lessons, all while honoring men and women who have served our country. And students who register to participate get a special "Take a Veteran to School" wristband from HISTORY for their entire class.
The Take a Veteran to School program was launched in 2007, and since then it has helped thousands of students and veterans interface in schools around the country. And the program is adaptable to kids of all ages. Its "How-To" guide provides an age appropriate curriculum to help facilitate teaching experiences at all levels of schooling.
This truly is amazing program. And things like Take a Veteran to School are so important in bridging the pronounced and growing divide between the military and civilian populations in this country. Fewer and fewer people in the U.S. have any kind of direct connection to the military, which means they have difficulty relating to what a life of service is like, and lack first-hand knowledge about what service for this country is all about.
Even people who
do
have such a direct connection can benefit from hear the unique stories that can be told by each veteran they have an opportunity to meet.
Please consider participating in this program, and if you do, send me pictures and stories! I will feature them here on Hicks Hiking where the men and women serving with Jake in Afghanistan can see!
Follow Blue Star Families on
Facebook
,
Twitter
, and
Google+
and build a support network so you can keep your family and personal community strong throughout the duration of the entire deployment life cycle.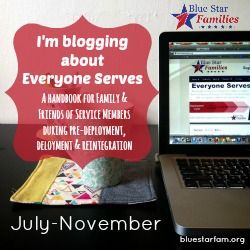 Please click
HERE
to read my disclosure statement, in compliance with FTC guidelines.