This could be the shortest blog post in history:
I blog to maintain my sanity.
Okay, maybe that sounds a little self-serving. But as it turns out, doing what keeps me sane also helps keep our friends and family connected, always teaches me something, and occasionally teaches someone else new things as well.
The past two years have seen a lot of crazy from the Hicks Household. I guess we should be experts at managed chaos by now--we are a family in two households, hundreds of miles apart, with a three-year-old, two demanding careers, and more side projects than I should try to count.
And actually, we do a pretty impressive job of making all that insanity look like a normal life. No, the thing that really shoved me in the direction of putting fingers to keys was something else--curiosity. As in, everyone else's.
In January 2012, we started the process of adopting a baby from the Philippines. You can read about that whole adventure to date here. It has been a crazy ride so far, and we're really still at the beginning.
The short version is: we've been approved by the Philippine government to adopt a child (actually, we were approved to adopt TWO; holy moly!), and are now on the "Waiting Families" list, where we are likely to stay for at least another year.
When we first broke the news about our decision to adopt, we were hit with a deluge of comments and questions from friends and family. And it basically hasn't let up since then. Don't get me wrong, the support has been amazing! But the process is emotionally draining, and has been something of a roller-coaster for us. By about the twentieth time I recounted the same story to different friends...well I'd had enough.
So I started blogging to keep everyone up to date on how things were going. I quickly learned that, in addition to reducing my overall redundancy, it also made me feel much better to lay it all out on the page. And I started receiving messages from others with advice about how to handle things, words of encouragement, and sometimes even a "that sucks!" message at exactly the right moment.
Then last summer brought us something new to blog about. We had been stationed at Fort Polk's Joint Readiness Training Center for nearly three years. It was a great gig; Jake was only three hours from Houston, we had homes and friends both places, he loved what he did, and I loved that it was a non-deployable position. Then by some twist of the Army roulette wheel, we found ourselves facing reassignment.
We were certain that Jake would finish out his years in the Army at Fort Polk, so reassignment at all was difficult enough to acclimate to. But to reassign only to start preparing for deployment, well that has been infuriating, upsetting, and downright depressing all rolled into one.
Once again, we found ourselves faced with something huge in our lives, and with all the concern and questions that come along with it.
This time, I knew I would be incapable of having those twenty conversations.
I could not tell people over and over again where Jake will be going, what he will be doing, how I will explain it to my son, or how we will handle the time apart. So I turned to my trusty blog to do it for me.
I blog to maintain sanity. In one respect, it's all about me. But here's the other great thing about putting these HUGE things of life out into the universe: sometimes, the universe sends back some pretty amazing wisdom. Sometimes, that digital "hug" you get from a few short words can change your entire day. Sometimes, you actually do help people going through similar things feel just a little less alone in it. And sometimes, it makes people feel closer to you, even when they are a thousand miles away.
Follow Blue Star Families on
Facebook
,
Twitter
, and
Google+
and build a support network so you can keep your family and personal community strong throughout the duration of the entire deployment life cycle.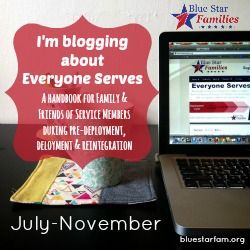 Please click
HERE
to read my disclosure statement, in compliance with FTC guidelines.